Neon Signs Bangladesh stands as the premier signage powerhouse in the heart of Bangladesh, crafting a luminous identity for businesses that resonates with excellence. Specializing in both Glass Neon and the assembly of LED neon, we elevate your brand through high-quality signs that leave a lasting impact. Let the radiance of our neon or LED signage illuminate your business, forging delightful and aesthetic connections with your customers. NEON SIGNS BD.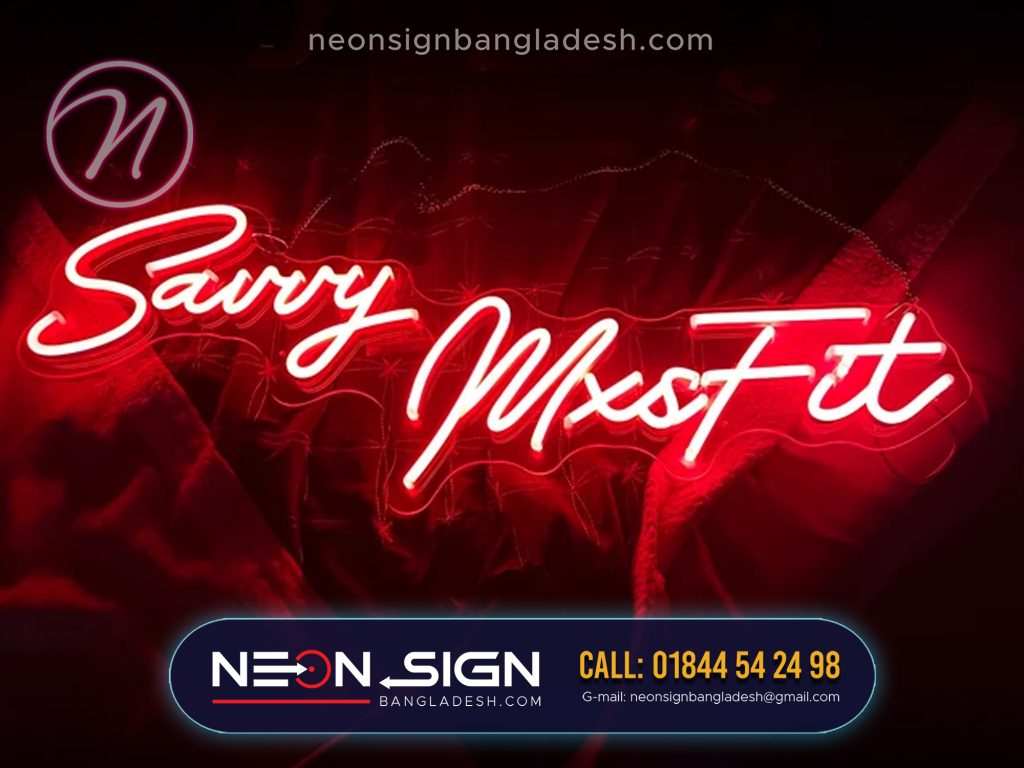 Engage, Captivate, Succeed: The Benefits We Bring to You
In the realm of business branding, we go beyond just signs – we create experiences. Here's what sets Neon Signs Bangladesh apart, delivering direct benefits to your doorstep:
1. Unmatched Craftsmanship
Our neon signs are a testament to the skill of our artisans. Crafted with advanced LED tubing, they boast unparalleled flexibility, allowing for the molding of intricate designs that reflect your unique brand identity.
2. Lightweight Brilliance
Gone are the days of clunky, cumbersome signage. Our neon signs, made with advanced LED tubing, are lightweight yet sturdy. This innovative technology ensures that your signage is not only visually striking but also easy to handle and install. NEON SIGNS BD.
3. Tailored to Perfection
At Neon Signs Bangladesh, we understand the power of customization. Our transparent acrylic backing, crafted from premium materials, serves as the canvas for your brand story. Every sign is a unique masterpiece, tailored to suit your vision and goals.
4. Diverse Applications
From business branding and advertising to enhancing the aesthetics of your space, our signs find a place in various domains. Whether it's a bank, a retail outlet, or your cozy home, we have the perfect signage solution.
Neon Artistry Unveiled
1. Cutting-Edge LED Tubing
Our neon signs are more than just a display – they're an art form. The advanced LED tubing we employ allows for creative freedom, enabling our skilled artisans to shape and mold the signs into captivating designs.
2. Transparent Acrylic Brilliance
The transparent acrylic backing, a premium material, adds a touch of sophistication to our neon signs. It not only complements the vibrant glow but also ensures the durability of each creation.
3. A Symphony of Colors
Immerse yourself in the neon rainbow with our diverse color palette. From vibrant hues to subtle tones, our signs offer a spectrum of possibilities, letting you choose the perfect shade to represent your brand.
Neon Decor BD: Where Innovation Meets Illumination
In the heart of Dhaka, Neon Decor BD emerges as the go-to destination for neon light enthusiasts. Offering the best prices in Bangladesh, we bring the art of neon to your doorstep. Our custom neon lights redefine signage, transforming spaces into artful expressions.
Crafting Your Unique Neon Experience
1. Custom Neon Sign Design
Embark on a journey of creativity with our custom neon sign design services. From business logos to personalized messages, we help you bring your vision to life in luminous style.
2. Neon for Interior Design
Elevate your interior space with the mesmerizing glow of neon. Our custom LED neon signs add a touch of brilliance to bedrooms, living rooms, and commercial spaces, creating an ambiance that resonates with your unique style.
3. Neon Party Magic
Transform any occasion into a neon-infused celebration with our neon party decorations. From themed parties to personalized gifts, our neon creations add a dash of vibrancy to every moment.
Neon Love: Shaping Futures, One Sign at a Time
Neon Signs Bangladesh is not just a signage company; it's a curator of luminous experiences. From business branding to interior design and neon parties, our signs transcend the ordinary, leaving an indelible mark on the spaces they inhabit.
ADVERTISING AGENCY IN BANGLADESH  | ALUMINIUM COMPOSITE PANEL BD | ALUMINIUM THAI GLASS DESIGN BD | BILLBOARD ADVERTISING AND RENT | CAR RENT | EVENT MANAGEMENT COMPANY BD | GLASS STICKER SUPPLIER AND PROVIDER | ICONE DEVELOPER | SIGNBOARD SOLUTION | ONLINE SHOPPING COMPLEX | ACRYLIC 3D SS LETTER SIGNAGE | SIGNBOARD AND BILLBOARD MANUFACTURER BANGLADESH | ISHATECH IT SOLUTION | LED SIGN BAZAR | LED SIGN BD LTD | NAMEPLATE SUPPLIER AND PROVIDER SHOP | NEON SIGNS | SS SIGNS | PANA SIGNS | WEB DEVELOPER | SIGNBOARD MAKER BANGLADESH | SHOP SIGN BANGLADESH | GLASS PROVIDER | WALL STICKER